Recently, a friend of mine from college started a collective Pinterest board with tried and true recipes that her friends post. Last Friday I tried a recipe that another college friend had shared on that board. And wonder of wonders, at various levels, it was a hit with every single member of our family! All three boys (5, 8 and 10) raved, Pete gave it a thumbs up and Maggie (3) ate it slowly (typical) and didn't complain at all. Definitely a win! This happens so rarely that I knew I must share it with the few of you who still get updates from this blog. :)
Also, I'm trying two more recipes next week, so hopefully I'll be back soon to share some more success stories!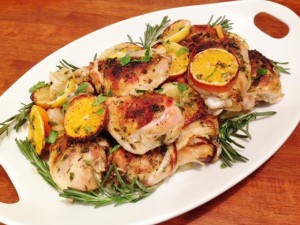 Herb and Citrus Oven Roasted Chicken
INGREDIENTS:
4 cloves of garlic, minced
2 whole lemons, one juiced and one sliced
2 whole oranges, one juiced and one sliced
1 tablespoon Italian seasoning
1/4 teaspoon crushed red pepper flakes
Kosher salt and freshly ground pepper, to taste
10-12 pieces (about 4 1/2 lbs.) bone-in chicken parts (thighs and legs are best), pat dry
1 medium onion (any kind), thinly sliced
1 teaspoon dried thyme, or fresh chopped
1 tablespoon dried rosemary, or fresh chopped
Chopped fresh herbs (rosemary, thyme, parsley), for garnish, optional
DIRECTIONS:
Preheat oven to 400 degrees F.
In a small bowl whisk together

olive oil
, garlic, sugar, lemon juice, orange juice, Italian seasoning, paprika, onion powder, red pepper flakes, and salt and pepper.
Place chicken in a rimmed 13-in. x 9-in. baking dish. Place parts skin side up and spread them out evenly in the pan. Pour olive oil mixture all over chicken, turning pieces to coat all sides. (If you marinated the chicken in this mixture, still add it all in). Arrange slices of lemon, orange and onion around and under the chicken. Sprinkle all over generously with thyme, rosemary, salt and pepper.
Bake uncovered for about 1 hour, or until chicken is cooked and juices run clear. Remove parts to a serving platter and garnish with additional chopped fresh herbs, if desired.
Just 30-40 minutes is all that's needed to bake this recipe with chicken breasts in place of chicken parts.
For best results, chicken can be marinated in a plastic container or bag for several hours or overnight in the olive oil mixture.
This is great served with a big salad, and/or lemon orzo/potatoes, or garlic bread!
This recipe comes from The Comfort of Cooking Blog.